GRADING MODELS DEVELOPMENT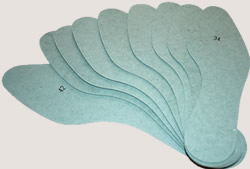 Models development

La nostra azienda dispone al suo interno di un moderno ed efficiente laboratorio con sistema CAD-CAM per lo sviluppo ed il taglio dei modelli in cartone fibrato.
Virtual elobaration with CAD-CAM
Our CAD system can satisfy every request concerning the models development. We want always to obtain exactly what our costumers need.
The CAD system is supported by a CAM system, composed of a stamper Comelz P4CN and its controlling program called "CALIGOLA". These software together allow us to work quickly and with absolute precision.
Customer service
We know the importance of time. We always guarantee a quick work without delay in the development of the cutting dies and of the grading models. Our costumers have their products delivered immediately.
Costumers belonging to other areas receive their products, that we send by quick forwarding agents, the day after the dispathing.